Previous Articles
Kittie Allison / Kasey Kahne Here
Kevin Harvick / MattKenseth Here
Kelly Bires / Scott Wimmer Here
---
Kittie Allison by Fr. Dale Grubba – March 18, 2008

Will the Kennedy heartbreak ever end? It was a question much asked in a different era that found Rose Kennedy at the heart of the suffering. Joe, Junior's plane had been shot down by the Nazis in WWII. John Kennedy was assassinated in Dallas on November 22, 1963. That was followed by the assassination of Robert Kennedy.
"I think of my three sons in their last moments," Rose would write at age 85. "Joe, whose plane exploded over the English Channel. Kneeling heartbroken at Jack's catafalque in the Rotunda. So much lay before him. Everything was gone and I wondered why. Bobby's funeral cortege in New York, led by Ethel and his ten children."
The Irish Catholic matriarch of the Kennedy family, who died at 105 in 1995, would also have a daughter, Rosemary, born mentally handicapped. Another daughter, Kathleen, was killed in a plane crash in Europe. Her husband, Joe, would suffer a severe stroke in 1961. He would linger, needed constant care, until 1968, leaving her to struggle without his support
.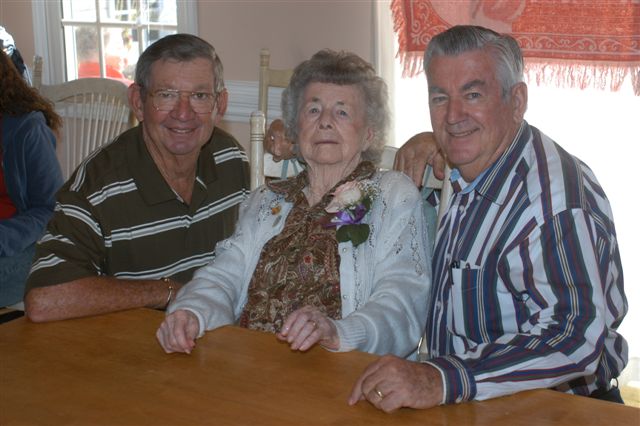 Donnie, Kittie & Bobby Allison. Kittie celebrates her 98th birthday in 2004 at Little Flower Assisted Living in Charlotte NC.

"She was the glue that always held us together," John said of his mother. In his eulogy Ted remarked, "She sustained us in the saddest times – by her faith in God, which was the greatest gift she gave us – and her strength of character, which was a combination of sweetest gentleness and the most tempered steel."
Will the heartbreak never end? It was a question repeated of the Allison family, not in the political world, but that of auto racing. The matriarch of this family was Kittie Allison, the mother of Bobby and Donnie. Kittie, who lived to be 101, passed away March 6, 2008. The Mass of the Resurrection was celebrated for Kittie Allison on March 12th at St. Aloysious Catholic Church, in Bessemer, Alabama. Like her Irish predecessor she knew the depths of pain and anguish. Like Rose, Kittie was one soft-spoken tough Irish Catholic.
Donnie would suffer severely from injuries in a wreck at Charlotte on May 24, 1981. From what Donnie has been able to piece together he was going into the fourth turn on lap 146 when he hit the wall and spun. As he was going into the infield Allison was hit on the passenger side by Dick Brooks. Knocked unconscious Allison suffered a broken left leg, five broken ribs, a fractured right shoulder blade and cheekbone, as well as a collapsed lung and a serious concussion. That wreck ended Donnie's career.
"I only wish Donnie could do as well as Bobby," Kittie confided at the time. It would never come to pass.
Then the dark side of fate befell the Bobby Allison family. On June 19th, 1988, at Pocono Speedway during the parade lap Bobby radioed to his pit that a tire was going down. The Buick fishtailed and came to a halt sideways on the track only to be hit by an oncoming racer at 180 mph. Bobby would suffer a badly broken left leg and severe brain injuries. He was flown to Lehigh Valley Medical Center in Allentown, Pennsylvania, where he struggled to remain alive. Later he returned to Hueytown to begin his rehabilitation. Badges in red and white pleaded, "Hurry back, Bobby," but his career had ended.
To this day Bobby Allison carries a picture of his two sons, Clifford and Davey, in his wallet. "Davey is the serious one," Bobby explains. Clifford, with two fingers raised behind Davey's unsuspecting head, was the mischievous one. On August 13, 1992, Clifford Allison lost his life while practicing for a Busch race at Michigan International Speedway. Eleven months later, on July 13, 1993, Davey would die from injuries he received when the helicopter he was piloting crashed at Talladega Speedway.
Rose Kennedy once said, "I tell myself that God gave my children many gifts – spirit, beauty, intelligence, the capacity to make friends and inspire respect. There is only one gift He held back – length of life." Kittie would have agreed and shared the sentiment that they could not allow themselves to succumb to tragedy knowing that if they did it would have a bad effect upon the family.
Yet Kittie would wonder. At the death of Davey she would ask how much more Bobby and Judy could take. Then she would say, "I just hope I can be enough for them, that's all. You have to go on and accept it. You can't ask why. Someday we might know."
Kittie's deepest desire was the same as Rose Kennedy who was once asked what she would give her children if she could only give them one thing, "It wouldn't be wealth or lands or estates or privilege. It would be faith. FAITH!"
Whenever the Allison family went on a trip in their car, Kittie would say, "Now let's get this trip started off right and they would all make the sign of the cross." Bobby would encourage those with him to do the same whenever he took off in his private plane.
While Rose and Kittie lived to be over 100 years old both were well versed in how fragile life can be. "When my time comes, I'm going to go," Davey philosophized. Still it wasn't easy for those who survived. Rose and Kittie survived on steely Irish determination and an abiding faith in God.




---
Kasey Kahne by Fr. Dale Grubba – March 3, 2008

While Kyle Busch, Ryan Newman, and Carl Edwards have attracted a great deal of attention in the early stages of the 2008 Sprint Cup Series, Kasey Kahne is off to a much hoped for solid start to the season. Flying below the radar Kahne was seventh at Daytona, ninth at California, and sixth at Las Vegas. After a stellar 2006 season Kahne's efforts fell short in 2007 leaving him and the Evernham team in a position of trying to regroup and regain some of their past glamour.
Before the season began Kahne felt that much work had been done during the off-season and he was optimistic about 2008. "We can't come out and be the best team right at the start, we can't expect that from where we have been, but we can come out and run in the top 15 for the first ten races and as time goes on get in the top ten. That's where we need to be and where we know we can be." The first three races of the season have exceeded his expectations.
Kahne's expressed goal is to make the Chase. He says he lives to get poles on Friday and win on Sunday, but at the end of the day it's all about being consistent and making the Chase. "Once we make the Chase," Kahne states, "it is a matter of having a really good last 10 races."
In explaining his rise and fall Kahne says, "We just hit on some things the year before (2006). Once people caught up we were behind the eight ball. We just never got back. As far as the flatter tracks, the last race at Phoenix (in 2007) for example, we were way behind. So there are a lot of things we are still working at. Having just the COT will be good for us. Whether it is me as a driver, the team, or the engineers, we can focus on one car."
Did Kahne ever lose confidence in his own ability during 2007? "You do once in a while," he admits. "You go out and get a pole, race good, or put on tires and be one of the fastest cars for two or three laps, and then fall behind. At that point you realize there is a lot going on with these cars and tires and as a driver there is nothing you can do but drive what you've got.
"I was down at times, but I still had a good attitude. I really think that with the right stuff this year I can bring us right back to where we need to be. I think we have the people in place, the right attitude, and definitely the right dedication."
Could it have been that Dodge overall was not that good? According to Kahne, "The year before (2006) the Penske Dodges were not very good. Evernham Dodges were very good. We hit on some things that were very good. Last year I thought Ryan Newman and Kurt Busch were as good as anyone on the track. There was a time at Bristol when I think I was the best there. I don't remember us being the best at any track. I think we just got behind. The Dodge teams were further behind than some of the others.
Kahne feels that Dodge wants their teams to share information as a way of getting back to the top, but is it possible? "I think Dodge wants to make sure the teams figure out how to run good and not just one organization at a time. Dodge wants not just one team, but all of them to run good and make the Dodge Charger look good so they can sell some cars at the end of the day. Ya, for all of us to work together would be great. But there are only some things you can work together on. You can't work together on everything. There are too many people, too much hard work to give it out to everyone. You have to be careful there, but I think there are a lot of things we could work better on that we don't. Hopefully we will start this year with Dodge's support."
Gillette's becoming a partner with Evernham has brought more structure. How does Kahne compare the past to the present?
"In the past there have been a lot of things just thrown at us," Kahne admits. "Try this. Does it work? Nope. Try this. Does that work? Ya. That's not how you go fast for a long time. You might hit on things once in a while. To go fast for a long time and be more like a Hendrick team, where they alternate great years and good years, we needed a different structure." According to Kahne everyone on the team now has a box, which is a huge change from the past.
For Kahne the shakeup is good. "What we have had in the past with Dodge and the Dodge dealers has been great, excellent. We have had a lot of fun and won a lot of races, but at some point you change and change is good. That's what we've done this year with the team, the cars, the structure of the company in Statesville. We've made a lot of changes and they are all good changes."
So, bottom line, is Kasey Kahne a good choice to make the Chase? "I think so," Kahne says. "We are going to be good. It's just a matter of being consistent and getting as many points as possible each week. Once we get our cars and everything back where it needs to be it'll be fun again."
If the first few races of the 2008 Sprint Cup season are any indication of things to come Kasey Kahne is having fun again.


Sidebar:


Ten years ago drivers were wearing Wrangler's, tennis shoes, and cowboy hats on pit row. Now it is Citizens and Seven's. Is NASCAR becoming a leader in fashion?
"I don't keep my eye on that," Kasey Kahne says as he backs off on the issue. "I do think it is different from what it used to be. If you look at me – a pair of Puma's, jeans, T-shirt – that's what I want. I look for what fits right and I like. I'm pretty picky with jeans. I'll try on ten pairs of jeans one day and get zero or try on ten pairs in one day and buy five. It's whatever feels right and fits right. I have a variety – Levi's, Seven's, Citizen. My favorite recently is Diesel jeans. I've got four pair in the last couple months. It's all about what fits and (and the fact) that they are coming out with new stuff."
---