Previous Articles
Matt Kenseth 09-2 /Travis Kvapil /Johnny Sauter /Kurt Busch Here
Matt Kenseth 09 / Paul Menard Here
Kittie Allison / Kasey Kahne Here
Kevin Harvick / Matt Kenseth08 Here
Kelly Bires / Scott Wimmer Here
---
Nascar Media Day driver photos (Click photo for full size view)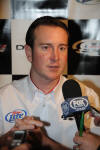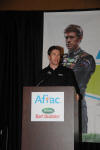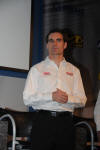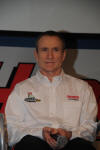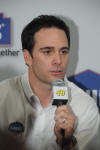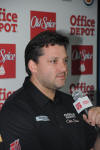 ---
Charlotte, NC. NASCAR Media Tour January, 2010 By Fr. Dale Grubba
Wisconsin Drivers

Among the Wisconsin drivers present for the 2010 NASCAR Sprint Media Tour hosted by Charlotte Motor Speedway was twenty-five year old Kelly Bires who will be driving for Junior Motor Sports this season. Bires admits it has been a long, tough road but driving for Junior Motor Sports is the opportunity of a lifetime, the break he has been looking for. He feels like he has paid his dues and is ready to go racing. He says the secret to success is hard work, learning from everyone along the way, and not giving up. The car that Bires will be driving was third in the Nationwide points standings last year.
Last year was the toughest Bires has experienced. He raced five races for three different teams – Kevin Harvick (KHI), Braun Racing, CJM Racing – and finished in the top ten three times. Every team is different and Bires felt a sense of accomplishment in being able to perform on the spot because each team has its differences.
Asked if he felt he would be overshadowed by the presence of Danica Patrick on the same team Bires said, "I feel like I've been under the radar my whole career."

Also with a new team for the 2010 season is Travis Kvapil, who will be driving for Bob Jenkins' Front Row Motor Sports team. The deal came about after talks that began when Front Row needed a driver while their regular driver, John Andretti, was participating in the Indianapolis 500. Jenkins and Kvapil remained in contact throughout the summer of 2009. Toward the end of the season Kvapil was invited to drive one of the team's cars. "I think they wanted to see what my capabilities were and how comfortable they would be working with me," says Kvapil. "I also wanted to see what they had going on. Before I got to know the inner workings of the team I didn't have that great of an impression of the team. They hadn't really done anything in the sport. A number of drivers had driven for them and they had been associated with different manufacturers. The team will be running Doug Yates engines and have Ford backing which makes Kvapil happy.
Front Row started in 2004. "They were never on my radar screen, "Kvapil admits. "It's a great story. Bob Jenkins is a successful businessman who loves the sport. He started small. The team never had much consistency until last year with John Andretti. When we sat down and started talking about the direction they were going, the things they wanted to do, and getting manufacturers' support it piqued my interest. It was really something I wanted to pursue."
Kvapil feels as if he has proven himself in the Truck series. While he doesn't have a lot of Nationwide experience, he has established himself in the Cup Series as a good clean racer who takes care of his equipment and is competitive. Unfortunately he was not able to continue his relationship with Yates Racing, but at the same time he is excited to be with Front Row. "It's definitely going to be a building process," he adds, "But I feel I can be part of something that is growing. The team is headed in the right direction. Bob Jenkins is very loyal, very committed. It's neat to go there and talk about who we should hire and which cars we should build first. It's fun to play a big role in the program. I know it is going to be a struggle, a big challenge to get it all going."
After moving from team to team Kvapil's goal is stability. He hopes Front Row Motor Sports is a place he can stay for a few years and help build the team into something. Beyond that he would like to win a Cup race and he feels that can happen on any given Sunday as David Reutimann proved last year. He doesn't think his team is in a position to knock Jimmie Johnson off the throne but he would like to finish in the top twenty. "If we finish in the top twenty-five in the points it would be a great year, ten positions higher than last year. I've got the experience to get it done. I've done it in the past."
When it comes to switching teams Kvapil feels he can adapt to a new team. He knows everyone in the garage and their experience level from the different teams he worked with in the past. "I know my role," he states. "The guys on the team know their role so you just plug in and go."
Sitting out the 2009 season was a big disappointment for Kvapil. It didn't feel good to be watching the races on TV. He is thankful for this opportunity with Front Row and realizes what other drivers who are sitting on the outside looking in are going through. He knows Front Row isn't a premier team but it definitely is going in the right direction. There is a sense of joy in being part of the day-to-day operations and once again competing every weekend.

Matt Kenseth has had to clean a lot of DeWalt yellow clothing out of his closet as his team takes on Crown Royal as its new sponsor. "I don't like to throw things away," he admits. "I'm one of those guys who save way too much stuff. I wear shoes and socks until they've got holes in them. Then I usually wear them a little longer. I actually did clean my closet after the last week of the season. I couldn't believe how much stuff I had."
What will it take to get back on top? Kenseth says they are really just trying to refine everything they had. There have been a couple of personnel changes. He feels good about the over the wall guys who will be together for their second year. He and crew chief Drew Blickensderfer and Chip Bolin continue to improve their ability to communicate. The cars have been gone through from top to bottom.
"I don't know if we can get off to the same start as last year when we won at Daytona and California," Kenseth observes. "That was unbelievable! I'm really more interested in the average finishes of the first six or eight weeks to see if we are more competitive each and every week. Last year there were flashes where we ran really well and times when we ran the worst I've ever ran in my Cup career. I'm looking for more consistency. I'm hoping we did the right things to put us there."
In trying to explain why the Roush teams didn't perform well last summer Jack said they never came up with a big technological breakthrough. "It's harder to find one thing before anyone else and have a big advantage because the rules are tighter," Kenseth followed up. "Like the year Greg Biffle won six or eight races by figuring out how to coil bind the springs and get their cars lower. That gave them an advantage. You have to have someone looking for the big things but you also have to make sure you are doting all the I's and crossing all the T's."
Looking back at last year Kenseth feels he ran pretty good considering the boat he was in. None of the teams in the organization ran that well. If they had, Kenseth would feel different about the team or himself. If, for instance, Carl Edwards had won nine races and his team hadn't performed. "We were as good as the rest of the Roush teams," Kenseth claims. "We need to improve them all."
Kenseth insists he hasn't really throught about winning the 2009 Daytona 500. What he is thinking about is how to get back in championship form, get back in the Chase, and run for the championship. "Winning at Daytona and California gave us confidence. Finishing last at Vegas got rid of that. This is pretty much a 'what have you done for me lately' sport. You have to prove yourself every single week. It's not what you did a month ago or three or four months ago. Winning a race at this level, a championship is great, but you pretty much have to do it every week."
Looking forward to the 2010 season Kenseth hopes to get out of the gate strong. Except for last year he always has. "It is important to win a race early on but it's also important to take a week at a time. You can never relax. You have to be there every week, loaded for bear. It is so competitive. You have to figure out a way to perform and get a good finish, even at the tracks you are weak at."
Charlotte, NC. NASCAR Media Tour January, 2010 By Fr. Dale Grubba


The first stop on the 2010 NASCAR Sprint Media Tour hosted by Charlotte Motor Speedway was a visit with Tony Stewart who is beginning his second year as both team owner and driver. Stewart says he is very content to be affiliated with the Hendrick organization. "It would take us years to get caught up, if we ever could," Stewart admits. "One of the advantages is we get six sets of notes a week. If someone hit on something we want to try it."
Joe Gibbs, for whom Stewart once drove, says that being a car owner has drastically changed Stewart's demeanor. About five weeks into the season I asked, "Tony, did you have a lobotomy?"
Referring to the way drivers acted and reacted to what happened on the track Stewart says that in an earlier day the older drivers policed things. They sat the younger drivers down and explained things to them. Now the average age of the drivers goes down each year and it has become necessary for NASCAR to police things. At the same time corporate America and not NASCAR has put pressure on the drivers with regard to their being themselves.
Stewart concluded his interview by saying he loves what he is doing. He enjoys the competition. He loves putting in the effort to get where he is. At the same time sometimes it is fun to go to a short track and load up at 10:30 and go home with no more responsibilities. "If my career ended today it has been successful," Stewart says. "I'd like to win Indy but I don't think I'll have the opportunity."

Next on the list was a visit with Kyle Busch who had just signed a long term contract with Joe Gibbs Racing. He says things have worked out well since leaving the Hendrick organization and that the process was a "growing thing." It helped him figure out what the sport is all about. He admits he was steamed at the time but he can't keep looking back. He has to look forward.
Busch claims he is a raw racer, the guy who goes out to win. "I want to win!" he exclaims. He says driving different types of cars comes natural to him. It just comes to him naturally and he doesn't have to think about it. He saw Dale Earnhardt, Sr. once when he was sixteen years old and that was from about fifty feet away.
Looking forward to the 2010 Sprint Cup Series, Busch feels that technologically the Gibbs' teams may be ahead of the others. When it comes to personnel they may be equal. It is just a matter of applying it all. With regard to himself he realizes while he wants to win the average, those thirds, sixths, and eighths are important. He has to work on being satisfied with a twelfth at times. Reflecting on Mark Martin's slow start in 2009, he realizes the importance of getting off to a good start.

Roger Penske has often said that a key ingredient to success is surrounding yourself with good people. He has said it so often that his drivers have picked up on the idea. Kurt Busch echoed those words as he spoke to reporters in a session devoted to Penske Racing. Kurt says when he was twenty-four years old he thought he knew everything. At age thirty-one he doesn't know anything. He now realizes he can't do it on his own. He has to surround himself with good people. He adds that if he has learned anything while at Penske Racing it is doing things properly and abiding by a code of ethics. Kurt would like to start off the year with a Daytona win and then settle down to a consistency that would merit a Sprint Cup championship. He hopes his brother Kyle has a good year but finishes one position behind him.

Another Penske driver, Sam Hornish, Jr. was asked if he feels like a NASCAR driver now that he has a couple of years under his belt after making the switch from Indy cars. "Once I feel like I can run in the top ten every weekend I'll feel like I'm a NASCAR driver," was his response. "It's worth the challenge. I'm having more fun than in the Indy car. The Indy cars are still running the same setup as in 2003." Hornish was also asked if at times he feels intimidated. "If you're intimidated," he continued, "you don't belong in a race car. For example, look at how mild- mannered Jeff Gordon and Matt Kenseth are. If you do something to them on the track they don't have a second thought about dumping you!"

Carl Edwards, a member of the Roush organization, considers his biggest accomplishment to this date is making it to the Sprint Cup level and learning how to win. His biggest goal is to win a Sprint Cup championship. He admits that winning early in the season takes a lot of pressure off. Looking back at the 2009 season Edwards observes there are many ways of looking at success and failure. He knows that his team did not perform the way they did in 2008. The frustrating thing is to know you can do it, do things the same, but not get the same results.

What effect will going back to the rear spoiler from the wing used last year have on handling? Jeff Burton says everyone is terrified by what the spoiler will do. It will have a huge effect. Teams will have to start over and it will be stressful. It will become immediately evident which teams do it the best. The re-introduction of the spoiler will have to be closely monitored by NASCAR. Burton observes there is a great debate about what makes a great race, cars sliding around or cars with grip. He personally likes less grip; a car that is loose and hung out. At the same time he realizes that from a completion viewpoint grip may make a better race.
"The great thing about NASCAR is the fans get to vote, have input. The fans are driving the ship right now. What is great for the fans can make it tough on competitors. It's a matter of separating personal needs from what is good for everyone. A person who was famous for pounding and pounding on NASCAR for what was best for him was Dale Earnhardt, Sr."
Asked about the impact of Jimmie Johnson winning four championships in a row having on the sport Burton philosophized, "You need someone on top like Mohammad Ali or the Patriots. Long term success creates legacies. They become both the hero and the villain. There needs to be someone to knock off. Someone is going to have to perform at a higher level. They won't drop off. Hendrick will continue to put good teams and drivers on the track. Dominating by 300 points would not be good."

Kevin Harvick's answer about how someone is going to beat Jimmie Johnson is simple, "steal Chad Knaus." At the end of the season you will be looking at Mark Martin, Jeff Gordon, and Jimmie and Chad who are all on the same team. "Jimmie and Chad can take a bad day, like being two laps down at Atlanta and turn it into something good. The rest of us don't do it as well."
Harvick is in the last year of his contract but he isn't going to let it interfere with his racing. "Richard Childress Racing gave me my opportunity. I want to have fun. I don't want to be disrespectful. The team will remain focused. We went through some bumpy weeks last year. We see things the same and have a good relationship. It will all just happen. I just want to be a driver. The main focus is to win a championship."

"I sure hope this will be a breakout year," says Paul Menard. "There has been improvement the first two years. I had the speed at times last year. I want to get the season started right. That didn't happen last year. I had lots of strong races, but dumb things happened. I lost third gear in California. I had tire problems at Las Vegas and Chicago. I knew how to get it done, but I didn't."

With so many changes in the last few years Kasey Kahne says the steady thing has been the team. He admits that it has definitely been a distraction. Still, he says, he has worked hard the first six years and given it everything he had. At the end of the day he has always managed to put it away and race. He thinks this year will be a unique opportunity. Richard Petty Motorsports will offer him his best chance yet. All he wants to do is run well, race well.

Reporters asked Mark Martin if he ever gets tired of being the fifty- year-old driver who does fantastic things. His response was, "I just concentrate on the 'does fantastic things.'" At the start of the 2009 season Martin says he would have been happy just to win a race. At the end of the season he was glad the season was over but the season itself could have gone on. Now he feels as if his battery is recharged and he is stronger than ever. The first half of the 2009 season was trying. Making the Chase was a relief. It was a test of his mental toughness. He had to stay strong and not let the demons get him. He had to focus on the positive. Anything else would have a detrimental effect on the team.

Jimmie Johnson says that in 2006 he didn't know if he could win a race. In 2008 and 2009 he began to feel comfortable. Now he feels very comfortable in his skin, in the sport. The last thing he wants to do is be out there running his mouth. He has learned who he is and where he fits in the sport. He has tried to earn his way and take his own path. Some like it. Some don't. All he knows is the world he lives in.
With regard to the Hendrick organization Johnson says Rick does a good job of keeping people around. It all boils down to people. Jack Roush, on the other hand, likes to shake the bag and try again. If Johnson and Chad Knaus have problems they work them out. They realize things would not be the same if they parted ways.
Which of his fellow drivers impress Johnson the most? Teammates Jeff Gordon and Mark Martin. Tony Stewart knows when it is time to race. Matt Kenseth can race two inches from you at 200 mph. He knows how to play the game right.
Asked about the impact of four straight championships Johnson says seeing someone make history in a sport is special. It is good for the sport. Think back to Dale Earnhardt, Sr. and Richard Petty.

"I've dug that pit and I have to lie in it," says Dale Earnhardt, Jr. "That's how I ran and I have to own up to it." He says he is tired of explaining why things went bad. "I have to recharge my batteries. I don't want to go through another year like last year."
At age thirty-five Earnhardt feels he has accomplished many things including two Nationwide titles and eighteen Sprint Cup wins. "When you are younger people give you more leeway. The older you get people expect you to put up with crap. When you are older they expect you to put up with what you don't want to hear. I asked to be in this position. I want to be a race driver. I have a famous last name."
Earnhardt talked about that famous name and how when he was young and in school if Bobby Allison blew a tire and crashed anywhere near his dad, some kid would come to school and blame Dale, Sr. for almost killing Allison. That's how it worked. Dale, Jr. was lucky he wasn't that impressionable. He didn't take it home from school and think about it in the bedroom all night.
"I feel completely, absolutely normal," Earnhardt claims. "I enjoy playing video games until two in the morning. My hobby is on-line racing, iRacing. I'm there every day I'm home. I'm number one at the present moment in the pro-series. The points championship is spread over twenty-five weeks. In my on-line racing career I've won 180 out of 300 races."

"I'll drive as long as I have the ability to win championships," says Jeff Gordon. "The down years are the ones that make us stronger." In making a comparison between Ray Evernham, Gordon's crew chief when he started and Steve Letarte, his present crew chief Gordon says that Evernham was more intense. Letarte has a chance at being the best because he knows talent and he knows how to use it.

Chip Ganassi says that racing is like laying bricks. You have to do it one at a time. You can't lay ten at a time, it doesn't work that way. To which Juan Pablo Montoya adds, "Last year we took a huge step from where we were to where we are now."

---